Siddur Lev Shalem is Here!
Dedicate a New Siddur!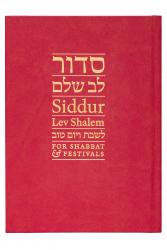 After a year long search, Beth Tikvah's ritual committee selected a new prayerbook, "Siddur Lev Shalem for Shabbat and Festivals". A goal of the committee was to make our warm and spiritual services even more welcoming. They selected a prayer book that maintains our traditions while providing contemporary language and transliteration. Everyone who who comes to Beth Tikvah will feel included as we pray together
You have the opportunity to dedicate one or more copies of this new siddur in honor of or in memory of anyone, or to commemorate a special occasion (birthday, anniversary, wedding, birth of a child or grandchild, etc.). A bookplate will be placed in the front of each siddur with your name and message. Your help is greatly appreciated to help cover the cost of these new siddurim.
The cost is $40 per book. Please click here for an order form. Or use our on-line order form.
Donations Welcome
We depend on your act of generosity and kindness – of Tzedakah – to help us meet the needs of our growing and diverse synagogue community. Making a charitable gift or donation to Beth Tikvah is a special way to commemorate or remember family, friends and neighbors on all types of occasions.
All contributions are appreciated, and we work hard to deserve your continuing support. Thank you for choosing to support Beth Tikvah Synagogue.
We have several dedicated funds to choose from:
General Fund - supports Beth Tikvah's operating expenses, including the religious school.
Wendy Steinberg Scholarship Fund - provides financial assistance for Hebrew School tuition to Beth Tikvah members who are in need
Building Fund - donations to this fund may only be used for capital improvements and our future home
Rabbi's Discretionary Fund - donations and items selected by the Rabbi
Rana Rappaport Life Long Learning Fund - this fund supports extracurricular children's education as well as ongoing community engagement and Jewish learning events and series for our youth and adult members.
Donations may be made to the above funds using the on-line donation form with a credit card or via ACH. Or, you may fill out the on-line form as though you were going to submit it electronically, then copy the form and paste to a word document, print and submit to Beth Tikvah Synagogue with a check. Checks should be mailed to the following address:
Beth Tikvah Synagogue
PO Box 1042
Westborough, MA 01581
ATTN: Donations
Tree of Life
Purchase a Leaf on our temple's beautiful Tree of Life for only $125.00, or a stone for $500. It's a great way to honor a loved one for a graduation, wedding, birth, Bar/Bat Mitzvah or any other event or person, while simultaneously supporting Beth Tikvah. To purchase a leaf or a stone, either use the on-line order form, or download the order form here and mail it in with your check.
Sat, September 30 2023 15 Tishrei 5784